Saying that we've been having rain every afternoon doesn't convey how much rain has been falling. We've narrowly escaped the infinity pool experience by draining several inches of water at least twice in the last week. This is even after the pool guys have been here and drained their customary three or four inches while cleaning between cell phone calls. I'm not complaining, the boys show up and clean the pool every week, it just takes them longer than when Dad is there to supervise.
Being housebound gives me an excuse to work on my Mom Make Me This projects. When I found out that La Primera pins things to Pinterest, I asked her to make a category of stuff she would like me to make. One of the items was a crocheted dress for La Nieta.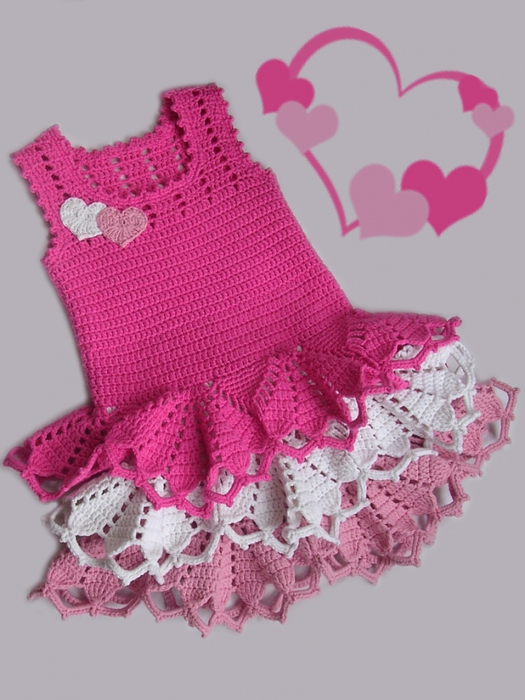 She didn't specify for which one, but it looked like a toddler style to me. After reading the pattern information, which didn't seem to have thread or needle size, I bought some La Perla mercerized cotton in size ten and used a size three crochet hook and off I went. After completing it, I realized that she would probably be putting it in the dryer. So I washed it after two o'clock when all the water coming out of the faucet is hot regardless of which tap I use. Then I proceeded to iron it dry, shrinking it as much as possible in the process. Mine came out looking pretty much like the original though it doesn't look like it in my photo.
The uppermost color is rosa Mexicana fuerte but it looks red in the photo. My second layer is pale pink. Hanging it on the wall from a hammock hook doesn't display it as nicely as laying it out and spreading it out.
I also made a little bolero.

I am hoping it all looks much cuter on a human than on the hanger. The bolero is an original design of mine consisting mishmash of Irish crochet and some other patterns. The bolero is also Rosa Mexicana Fuerte, somehow the color looks more true in that photo than in the ones with the dresses,
Feeling rather pleased with these results I made one more dress but in a larger size, the photos do not do it justice. This dress while inspired by the first one has different stitches in it. I like the idea of the girls dressing in similar styles but not exactly the same outfits. I can't take any more photos since they are already on their way to California courtesy of one of my friends. The body of the dress is ivory. The tiers are beige, the same pale pink and rosa Mexicana of the first dress. I decided to do without the rosa Mexicana fuerte on this one. Trying to be trendy, I made the back hem longer than the front. I also remembered to put a bit of ribbon on the back of the neck so it would be easier to put on with the front facing out.
Now I am working on the coordinating bolero for this one in the pinks. I'm using thinner thread and smaller needles. Hopefully the bolero will make it north soon with one of my other friends. My daughter is getting used to receiving packages from me that have been mailed by my globe trotting girlfriends.
She promised me photos of Las Nietas wearing the outfits. I can't wait to see them.